How to use Dusty
Once started, Dusty runs in background and does not require any interaction with a user. The only Dusty interface is a small indicator window on the desktop: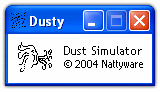 You can close this window to finish Dusty and to wipe all dust from the desktop instantly.

Help on Dusty
•
What is Dusty
‹
How to use it
•
Limitations
•
License
See also:
© 1999 – 2023 Nattyware. All rights reserved.
All trademarks, service marks and logos displayed and used at this site are the property of their respective owners.