How to use Qwertick
When you launch Qwertick, it starts in minimized mode and puts an icon in system tray area on the task bar. Click on the icon will restore the window: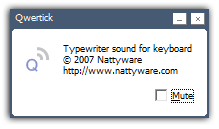 You may use the Mute checkbox to temporarily disable or enable the typewriter sound on a go, without restarting the application.

Help on Qwertick
•
About Qwertick
‹
How to use it
•
License
See also:
© 1999 – 2023 Nattyware. All rights reserved.
All trademarks, service marks and logos displayed and used at this site are the property of their respective owners.