How to use Pixie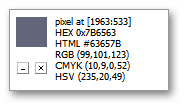 Simply run Pixie and move the mouse cursor around the screen - you will see all the necessary information in the Pixie's window. That is it.
There are few additional features available to make your work with Pixie more comfortable.
Copy HTML

Press Ctrl+Alt+C to copy a HTML value of a current color to the Windows clipboard.

Color Mixer

Press Ctrl+Alt+X to activate the mixer. Compose any custom color you want, then click the Ok button and to copy the color's HTML value to the Windows clipboard.

Magnifier

If you have to work with a complex image then point to the area around a pixel that you want and press Ctrl+Alt+Z. A static snapshot of this area will be open in the magnifier. The working area for a snapshot is 32x32 pixels with the magnification of 1:7.

Hotkeys redefine

You may change the Ctrl+Alt hotkeys "on the fly" at any time by clicking the Pixie's window with the right mouse button. All changes that you made are effective immediately.

Frozen mode

If you turn on both Caps Lock and Scroll Lock then Pixie goes to the frozen mode. It will not track colors but display the last tracked color only. Turning off either Caps Lock or Scroll Lock will un-freeze Pixie.
You may find more information on how to use Pixie in "Tips and tricks".

Help on Pixie
•
What is Pixie
•
Watch a video about Pixie
•
New features in version 4.1
‹
How to use Pixie
•
Tips and tricks
•
Security aspects
•
License
•
Credits
See also:
© 1999 – 2021 Nattyware. All rights reserved.
All trademarks, service marks and logos displayed and used at this site are the property of their respective owners.